212 Performance
Impact Speedcuff Cut Resistant 5 Work Gloves
The 212 IMPACT Speedcuff C5 offers heavy-duty protection with a classic look, fit and feel. Made with an abrasion resistant synthetic leather palm, this glove outlast any standard leather driver and gives the added benefit of cut level 5 resistant protection.
Details
The 212 Performance Impact Speedcuff Cut 5 gloves offer heavy-duty protection with a classic look, fit, and feel. With breathable back-of-hand construction and an integrated, back-of-thumb terry cloth sweat wipe to clear away sweat and keep it out of your eyes, these gloves keep your hands comfortable and your vision clear in the hottest job sites. To keep your fingers safe, flexible, heavy-duty TPR molding runs across the knuckles and down the full length of the fingers to provide impact and pinch-point protection while the EN388 level 5 rated, cut-resistant liner prevents injuries from sharp objects that would slice through other gloves. The synthetic leather palm is fully seamless to prevent snags and catching while the embossed pattern provides enhanced grip. For easy on and off, the adjustable cuff has both hook and loop closure and a gathered, elastic sewn wrist so these gloves will stay on no matter how vigorous the work you're going; all while still being able to slip on and off easily - vital when part of the glove gets caught in a saw, drill, or other power tool.
Features
IMPACT PROTECTION - Heavy-duty and flexible TPR molding on knuckles and fingers provides impact protection
CUT RESISTANT - Glove liner material is EN388 cut level 5 rated for blade and sharp edge protection
SEAMLESS EMBOSSED PALM - Fully seamless palm with embossed texture won't snag or catch while providing enhanced grip
ADJUSTABLE SPEED CUFF - Cuff is sewn with gathered elastic in addition to hook and loop closure for a custom, easy to put on fit
BREATHABLE BACKING - Back of the hand is made of breathable material with an additional terry cloth sweat wipe on the back of the thumb
REINFORCED SADDLE - Saddle between thumb and forefinger is reinforced to prevent tearing
BUILT-IN SWEAT WIPE - Back of the thumb features soft, terry cloth material to comfortably wipe away sweat and keep it out of your eyes
Product Sheet
Specifications
country of origin
Pakistan
manufacture warranty
10 Day Limited Warranty
warranty
10 Day Limited Warranty
Badges
Where to Buy
Our site participates in using affiliate links through several affiliate programs. Affiliate links earn us commission fees by linking to sites like Amazon.com and Newegg.com.
Breathable Backing
Elastic cuff fits snug, keeps out dirt and debris, and allows glove to easily be put on and taken off
Impact Protection
Heavy-duty impact protective TPR sheathing covers knuckles, fingers and back of hand to provide maximum protection from crushes and blows while on the job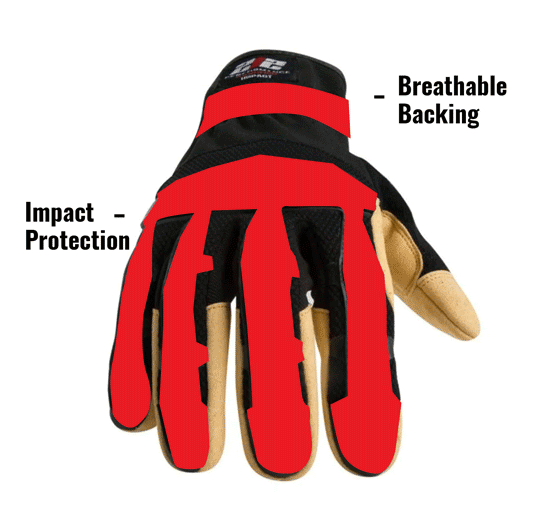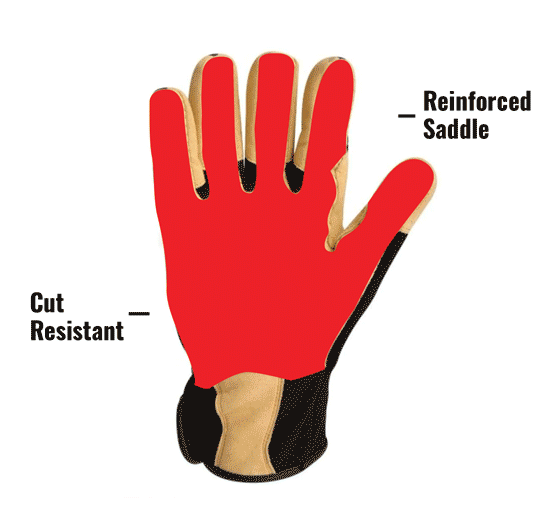 Reinforced Saddle
Patch between thumb and index finger reinforces and provides added protection against wear to extend the life of the gloves
Cut Resistant
Made from a blend of lightweight and breathable fabrics for long wearing comfort
Extreme Cut Protection, High Grip and All-Day Comfort in this Seamless Knit Glove

Impact Resistance Test
Flexible and ergonomic impact protective TPR sheathing covers back of hand and full length of fingers
Cut Test
This speedcuff work glove is made with a strong liner that meets EN 388 cut resistant level 5 for extreme protection from cuts and nicks
Cut Level

Dexterity Level

Impact Resistant

Grip Level

Glove Toughness

Glove Comfort

Breathability
Related Products
Reviews
No reviews have been posted yet. Please don't hesitate to share Your opinion and write the first review!
Add Your Review