Shipping & Returns
We want you to receive your items as soon as possible so most orders are processed and shipped via UPS within 1 business day. Orders are delivered within 1-5 days depending on delivery method and receiving address.
Please contact us if you have any questions about ordering, shipping, or returns.
SHIPPING METHODS & RATES
We offer free shipping on all orders excluding Alaska and Hawaii.
STANDARD SHIPPING SPEED ESTIMATE
At this time, we only ship to US addresses. In the map below you can see estimated shipping speeds for standard ground.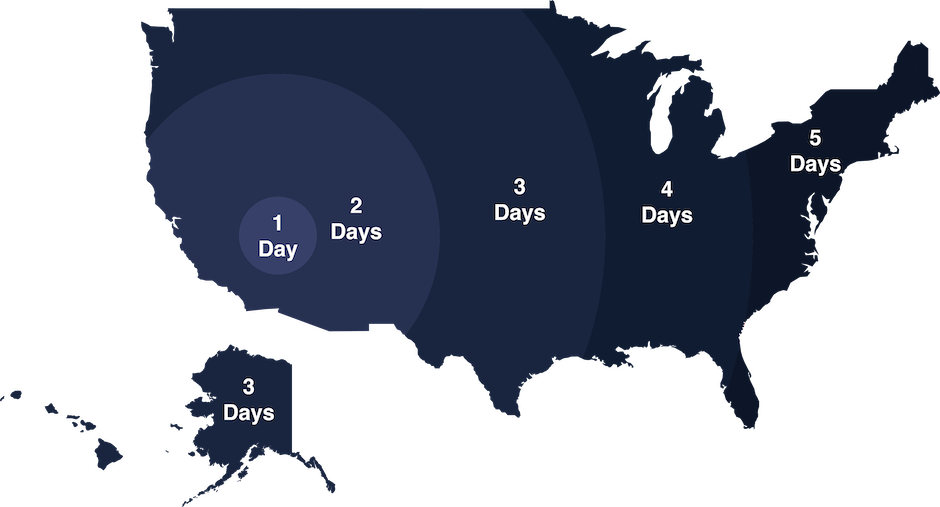 EXPEDITED SHIPPING
During checkout you may choose to expedite your order to either 2-day air or next day air. These rates use our negotiated discounted UPS rates and the cost will depend on the size of your order and shipping location.
FREE SIZE EXCHANGES
As we want your item(s) to fit you perfectly, if you ordered the incorrect size, we'll exchange them for the correct size for free. We'll email you a return shipping label to send back the your item(s) and ship you the correct sized item(s). All we ask is that the item(s) are unused and still have the tags attached as we will not exchange used item(s) or item(s) without packaging. Please contact us to initiate an exchange.
EASY 60 DAY RETURNS
We accept returns of new, unused items with packaging attached within 60 days of your order. In most cases, we'll refund 100% of your order, but we do reserve the right to withhold up to 25% in restocking fees for irregular returns. Your refund will be issued within 7 days of receiving returned items and will not include original shipping costs. Please contact us to initiate a return.
SATISFACTION GUARANTEED
If you have a defective or damaged item, we'll replace it free of charge. Please contact us and include a photo of your item to get a replacement.