212 Performance
AX360 Seamless Impact Cut 5 Gloves
The AX360 Impact Cut 5 gloves are the bad ass gloves you've been looking for to take on anything. They are comfortable, breathable and dexterous, have flexible, back-of-hand impact protection, and extreme 360-degree cut protection.
Details
Blades a little sharper than you were expecting? Call in the cut 5. The AX360 IMPACT C5 work glove is the ultimate cut protection glove. Offering extreme dexterity, cooling HPPE material, a foam nitrile grip and TPR back of hand protection, this glove can handle almost anything!
WARNING! This product will melt when exposed to extreme heat or open flames, posing a risk of serious injury where melted product comes into contact with skin!
Features
FINGER AND KNUCKLE PROTECTION - Heavy-duty and flexible TPR protective sheathing covers back of hand and full length of fingers
BREATHABLE FABRIC - The main body of the glove is made from a blend of breathable high performance polyethylene, nylon, and lycra fabric
NITRILE FOAM PALM - Nitrile foam palm provides increased abrasion resistance
EN 388 TESTED - Rated 4544 on EN 388 Standards for abrasion, blade cut, tear, and puncture resistance
TEXTURED GRIP - Palm and fingers are textured provide excellent grip in dry and wet conditions
ELASTIC CUFF - Elastic cuff fits snug and keeps out dirt and debris
EXCELLENT DEXTERITY - Fully seamless glove provides excellent range of motion during wear
Specifications
country of origin
Sri Lanka
manufacture warranty
10 Day Limited Warranty

Badges
Where to Buy
Our site participates in using affiliate links through several affiliate programs. Affiliate links earn us commission fees by linking to sites like Amazon.com and Newegg.com.
Breathable Fabric
The main body of the glove is made from a blend of breathable high performance polyethylene, nylon, and lycra fabric that allows for all-day comfort
Heavy-Duty Impact Protection
Heavy-duty and flexible impact protective TPR sheathing covers the back of your hand and full length of your fingers for unmatched finger and knuckle protection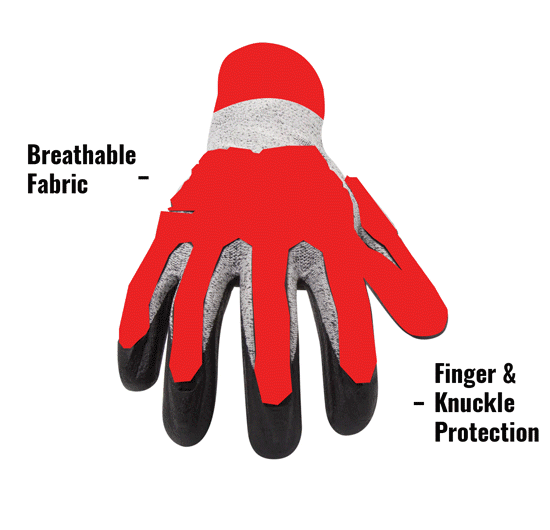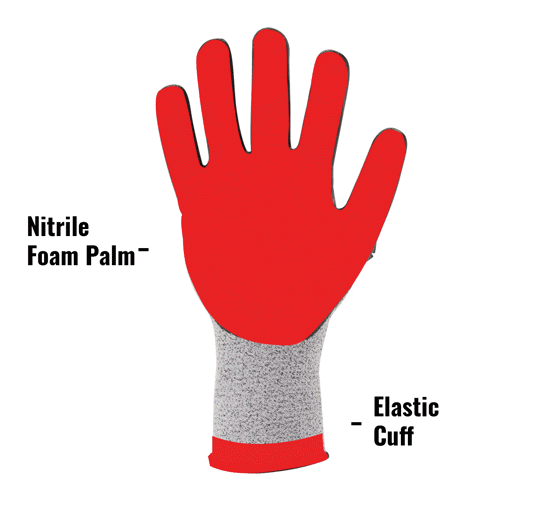 Nitrile Foam Palm with Textured Grip
Nitrile foam palm provides increased abrasion resistance while the textured grip in palm and fingers excellent grip in dry and wet conditions
Elastic Cuff
Elastic cuff fits snug and keeps out dirt and debris while also allowing the gloves to be put on and taken off easily
Impact Resistance Test
Flexible and ergonomic impact protective TPR sheathing covers back of hand and full length of fingers
Glass Cut Test
This seamless glove offers unmatched protection rated 4544 on EN 388 Standards for abrasion, blade cut, tear, and puncture resistance for maximum hand protection
Abrasion Resistance

Cut Level

Glove Dexterity

Impact Resistant

Puncture Resistant

Tear Level

Glove Toughness

Glove Comfort