212 Performance
Impact Cut 5 Super Hi-Viz Gloves
Protect from cuts, abrasion, and impact hand injuries by wearing the 212 Impact Cut 5 Super Hi-Viz Work Gloves. Made for ultimate protection without sacrificing dexterity and feel.
Details
The 212 IMPACT CUT 5 work glove offers high-quality impact protection without sacrificing dexterity. This flexible, formfitting glove is made for tough jobs where contact with materials, machinery is inevitable, and the chance of a cut-related injury is high.
WARNING! This product will melt when exposed to extreme heat or open flames, posing a risk of serious injury where melted product comes into contact with skin!
Features
ABRASION RESISTANT - Namar™ palm material is 5x tougher than other materials for maximum abrasion resistance
IMPACT PROTECTION - Heavy-duty and flexible TPR molding runs down the fingers and across the knuckles
CUT RESISTANT - Palm material is EN388 level 5 / ANSI A4 cut resistant for sharp edge protection
SEAMLESS PALM - Palm is made of a single piece of abrasion resistant material that wont snag or catch during wear
PROTECTED FINGERTIPS - Impact armor extends the full length of fingers and wraps around sides of fingertips for pinch point protection
ADJUSTABLE CUFF - Adjustable cuff has hook and loop closure for a secure and comfortable fit that keeps out wind and debris
HI-VIZ COLORING - Bright, super Hi-Viz yellow / green back of hand coloring stands out clearly for added safety and easy signaling on the job
Specifications
country of origin
Pakistan
manufacture warranty
10 Day Limited Warranty

Badges
Where to Buy
Our site participates in using affiliate links through several affiliate programs. Affiliate links earn us commission fees by linking to sites like Amazon.com and Newegg.com.
Adjustable Cuff
Elastic cuff fits snug, keeps out dirt and debris, and allows glove to easily be put on and taken off
Heavy-duty and flexible TPR molding runs down the fingers and across the knuckles provide maximum finger and hand protection from crushes and blows while on the job
Hi-viz Coloring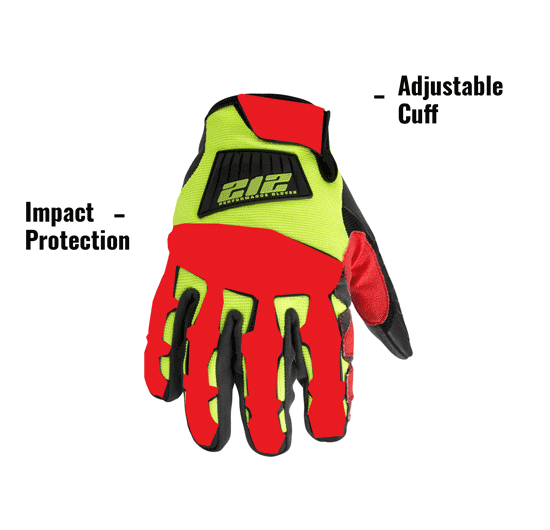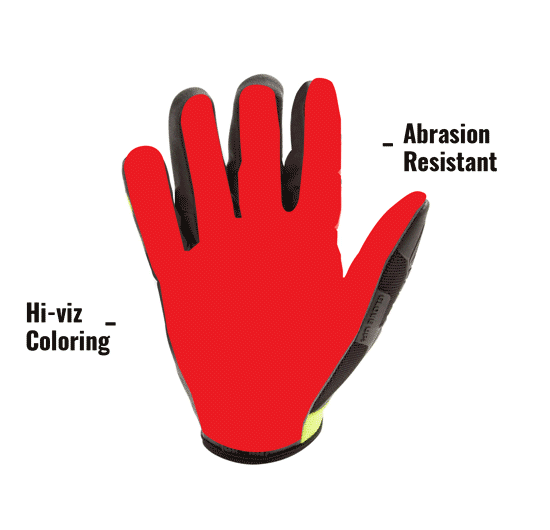 Bright, super hi-viz yellow and green back of hand coloring and bright red palm for high visibility and easy signaling on the job
Abrasion Resistant
Impact Protection
Namar palm material is 5x tougher than other materials for maximum abrasion resistance
Extreme Impact Protection, Abrasion Resistance and Cut 5 Protection in this Hi-Viz Work Glove

Impact Resistance Test
Flexible and ergonomic impact protective TPR sheathing covers back of hand and full length of fingers
Cut Test
This high visibility work glove is made from material that meets EN 388 cut resistant level 5 for extreme protection from cuts and nicks
Abrasion Resistance

Anti Microbial

Cut Level

Dexterity Level

Impact Resistance

Glove Toughness

Comfort Level

Breathability